Our dog, Comet, is a big German Shepherd mix which needs lots of exercise at least every other day so for him to not get the crazies. Though he is 9 and years old, he is still this way. He likes to run off leash but does not like dog parks. So where we reside, we attempt to locate unofficial open places where he could run free. But usually such areas are a half mile or more away from where we live.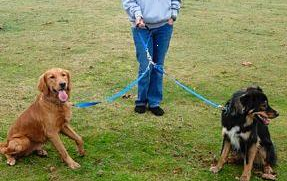 As opposed to forcing him in our car to get to those areas, we utilize our bikes. When we first got Comet and recognized what his exercise demands were, I held the leash in my hands while bicycling. But, I discovered just how foolish that was soon after I started doing so.
I was bicycling together, holding his best double dog leash in my hands, when he noticed THE CAT before I did. Normally he is a affordable dog, but if he sees a cat, particularly one that is moving, it moves some type of switch. The next second, I had been down to the road with a gash in my leg, while he moved charging across the road.
After this episode, I developed a homemade bike attachment for dog bike exercise, the "B-Loop." The goal of this B-Loop would be to decrease your center of gravity whenever there's pressure on the leash. In the event the B-Loop is set low enough, a massive dog shouldn't be in a position to pull you off the bike using a lunge. I've used my initial B-Loop successfully for 2 years using Comet (62 pounds) plus a year using a bigger dog we'd who weighed 92 pounds.
To create each loop, then use double thread and thread both parts together in a cross and rectangle layout for optimum strength. The loops will need to be spacious enough so that you can place the snap through the holes.