Ring Light is a type of lamp, a multipurpose tool which is used for professional photography in photographic studios. It has a specific design having LED lamp mounted directly over the lens to receive uniform light direct from photographic device's point of view which eliminate shadow and provide more clarity to picture. It creates a specular highpoint in the eyes of subject to be more attentive to photographic device. That's why it is called as a catch light or eye light for being catchy.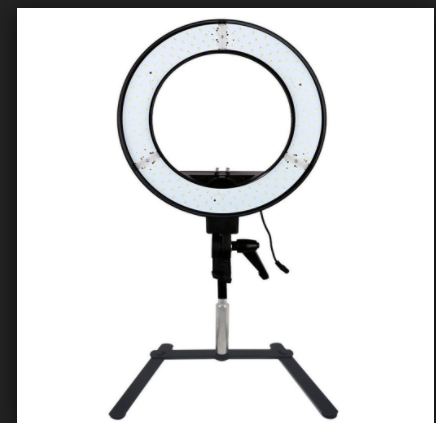 Types of ring lights
Ring Light
is a portable tool which can be used for all types of shoots, from small ladybird's portrait to big music videos. However, type of light used varies according to the purpose. There are three common types – fixed lighting, ring flash, and macro ring flash. HVL-RL 1 type is one such example of fixed 8-12 consistently spaced light sourced lamp often used with dimmers to adjust the light. Ring flash is like the fixed type, except flash bulbs replace LEDs in this type. In macro ring flash, a circular lamp with different number of burners is mounted on the lens to eliminate shadow and preciseness of the picture.
Applications
These lights are used in all kind of professional photography for high-end results. Ring flashes are excellent for close-up or macro photography. The size of ring flash is very significant because light come across the subject from various angles and reduce any shadows of the subject. Portrait and fashion photographers make excellent use of ring flashes to create a special effect in the picture. Ring lights are also used for making beauty videos and light used for this purpose is called Makeup Ring Light. Photography is a great profession in the fashion industry and ring lights have made professional photographers to exhibit their skill in enhanced manner with advanced types of lights. As fashion industry grows, these lights have become essential part of its promotion.