Tippmann is a very popular name in the paintball world. Guns like the Tippmann Cronus are one of the most used guns, along with other popular models like the Phenom X7.
But recently, the Tippmann Gryphon has been making a lot of waves in the paintball world. For just over $150, you get a paintball mask, a hopper or loader, a harness belt, pods, a gas tank, a tank connector and even a barrel sleeve. Now, it is hard to beat that kind of value when shopping for paintball guns.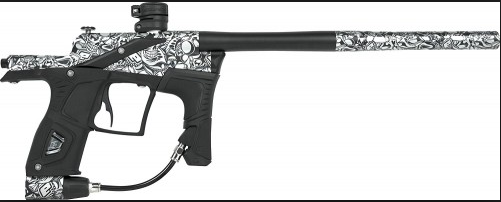 Of course, the low price point and the package deal means that the gun is rather basic. For starters, it isn't an electronic paintball gun. What this essentially means is that you can't program the gun to fire in different modes or fire at certain velocities by using a UI on the gun.
But, the gun is always in semi-automatic mode which means that it will respond to fast trigger pulls. The body is made out of plastic although it feels quite sturdy. This is because the plastic is a composite plastic and not the typical cheap plastic that you see in otherwise affordable guns.
The gun uses .68 caliber paintballs. You can't use .50 caliber paintballs with this gun. Please bear that in mind if you are typically used to paintball guns that can fire both calibers, like most higher end paintball guns can.
Needless to say, this is a beginner paintball gun. It is great for those who don't want to spend a lot of money on buying various parts like a tank, a harness, pods and other essentials required to play the game. Performance will be satisfactory. However, you will think performance is very good as you wouldn't have used a more high performance gun before using this one, as you would be a beginner to choose this gun.
But, once you get the hang of paintball with this gun, you can then decide to upgrade your gun to a full-fledged mechanical paintball market or even a high end tournament marker.