Hello readers, Wengie is back with her exciting new do it yourself ideas. This is a great channel that is so useful. So, subscribe as soon as possible to get latest updates for all the DIYs and prank tricks. There are large variety with good content which will entertain you plus add on to your skills.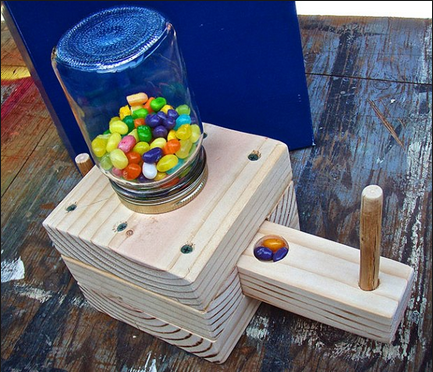 In today's DIY we will be making a beautiful
diy gumball machine
this is the most useful machine that will help you get candies properly. A great way to store and preserve your candy which looks great and nice as a show piece too. A great idea of the DIY candy dispenser which will dispense the candy. The look is so good and adding to the creativity you can make it as you like. There can be different types of these things which are great and easy to make.
The requirements for this is simple. You need a cardboard that can be the skeleton of your machine. Make sure the cardboard has the perforation as that is needed. Then there is a need of the tooth peak you can also use straw or strong paper that can help you in making pillars for the skeleton. You need glue, a bottle cap, spring, tape and some of your favourite colours that can make this dispenser attractive.
The first step is to divide the cardboard into four according to the size of dispenser you want to build. Then proper using the tape cover the edges that will help in making the edges smooth and nice. Then use two small cardboard and make slits such that your candies can get through it. You can manage the size of it according to the size and number of candies you want. Use the Nutella jar or any plastic jar you want to store your candies. And then glue them up. Thus, your DIY candy machine is ready.